How Did I Get Here?
FOR MEDIA STUDENTS:
At Negara Film TV Media, as a cross media writer, producer, director and presenter over several formats and disciplines, Kerry Negara has gathered unusually diverse skills and experiences from her work in broadcast media and corporate communication.
The Beginning: A Hands On approach by Kerry Negara
Sometimes I guest lecture at media schools and I am often asked, "How did you get here?" Well, kind of like this… Music Video, TV Commercials, Corporate films, Writer, Documentary,  TV Producer, Radio Producer… 
After working on film shoots as a caterer and completing some industry training at the Australian Film Television & Radio School, I started in the media business as an In-House Producer, making TV commercials, music videos and corporate films with Ron and Ruth Brown's small but dynamic R&R Media in Carlton, Melbourne. R&R Media's showreel show reel was full of enticing snippets of 1980's bands and songs that have become etched in the Australian mindset – songs so iconic some of them are now on the soundtrack at our supermarkets  – The Church's The Blurred Crusade – The Church – Almost With You from The Blurred Crusade Unguarded Moment by The Church (song only) Little Heroes – One Perfect Day One Perfect Day by The Little Heroes, Moving Pictures – What About Me ? What about me? by The Moving Pictures Little River Band's, Down on the Border. R&R's extended film clip The Blurred Crusade opened theatrically as a short for Australian director, Gillian Armstrong's music film Starstruck Starstruck (Gillian Armstrong, 1982).
I titled my first documentary for SBS Television, Done Bali, after listening to so many travelers and tourists telling me, they'd 'done Bali'. When it went to air the ratings were great & as  a result, SBS screened Done Bali 3 times in one month due to switchboard demand.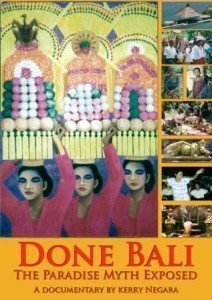 The objectified Balinese had never been interviewed before about the reality of their own history! Proudly, it remains the highest rating locally produced documentary ever screened on SBS's The Cutting Edge and has sold into worldwide territories mainly through Discovery Networks. Done Bali – 'the manufacturing of the paradise myth'- is on tertiary curriculum lists internationally. View: 'Done Bali'
At the same time through my passion for Melbourne's live music and comedy scene,  SBS TV asked me to work as a Reporter / Director on their new series nomad. This was great fun, making featured personality profiles on singers, musicians, album producers, songwriters, poets, comedians – Dave Graney video profile – nomad's producers were responsible for creating the viewer competition that discovered the Newcastle band, barely out of school, Daniel John's Silverchair –  Silverchair – Tomorrow.
SBS management asked me to develop a live multicultural entertainment series on the network. With office and facilities support from SBS and cash from Film Victoria I developed Live From the Continental, making use of the sophisticated Continental Café supper club as a live venue around the raconteur talents of 'man at work', Scottish Australian all round talent, Colin Hay, with support from Vietnamese Australian comedian Hung Le and Tongan Australian singers Vika & Linda. What a line up of multicultural talent. The SBS executives loved it. And then…a new head of production came on board and scrapped the pilot. This was one of my toughest lessons in television production. It's one thing to create inspired new programming, it's quite another to understand and to wrangle the in-house politics and competitive jealousies of interstate network producers. I learnt the hard way that 98% of new program development never sees the light of day.
Colin has a wonderful way of telling a story, any story, especially his own – Colin Hay video profile
Segment producing for TV and radio
With my unbridled curiosity for just about everything, I continued to develop new documentaries, but essentially I found whilst remaining independent, the sustainable broadcast career path was definitely to be found more in segment producing for TV and radio shows.  In the main, these shows and the personalities I research and produce are a delight to be amongst. Daily shows are relentless in their rapacious appetite for content and the new new new.  Weekly shows on the other hand are much more civilized, human friendly environments.  Shows I've enjoyed working on include  nomad, The Movie Show at SBS, Insiders, Stateline, 7.30 Report at ABC TV, The Deepend at ABC Radio National.
Picking up the camera and mini disc – the sole operator
Producing with TV crews who are expert in camera and sound makes field work a breeze. So it was with some apprehension that I picked up my first mini DV camera as a sole operator to shoot research interviews for documentaries in development, Young Tigers in Indonesia and Revenge of the Attractive in New York and Melbourne.  This past experience convinced me to go Mini DV again in making A Loving Friend;  my documentary that exposes the absurd notion of a benevolent pedophilia that is nurturing and causes no harm.  I've found there's nothing like self sufficiency when content is controversial and likely to put well connected noses out of joint.
Over the past 2 decades I have built a collection of candid interviews with many people from South East Asia, including all stratas of society, who talk openly about aspects of their lives and socio political history. My enthusiasm for reporting South East Asian stories saw me filing the first radio stories in 2004 from the fledgling  Ubud Writer's & Readers Festival in Bali, Indonesia  The Ubud Writers & Readers Festival when no one else in the Australian media  saw it as significant or newsworthy. The festival is now listed by many as "one of the top festivals in the world".  So never listen to the naysayers, and always trust your instinct and enthusiasms.
You can see more of my work on my YouTube channel
With a fair bit left out, That's how I got here. I'm often asked and now you know.
Good luck!  Kerry